Carleton B. Chapman, M.D.
President
Years: 1975 to 1980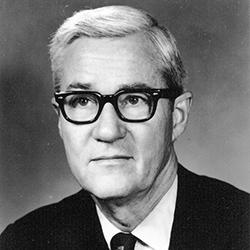 A distinguished cardiologist whose career spanned medical research, medical education, and philanthropy, Carleton B. Chapman, M.D. (1915–2000), served as Commonwealth Fund president from 1975 to 1980. Margaret Mahoney, Chapman's successor, noted that Chapman "was in medicine, but he was truly a renaissance person."
Following a year of service on the Commonwealth Fund Board of Directors, Chapman was named executive vice president of the foundation in 1974 and then president the following year. During his tenure, he prioritized grantmaking to strengthen medical education. The Interface Program, one of the Fund's primary initiatives during Chapman's presidency, sought to reform premedical and preclinical education.
Chapman, a Rhodes Scholar, received his medical and public health degrees from Harvard University. He then served with the U.S. Public Health Service from 1944 to 1946, stationed in the Middle East, China, and Indonesia. Upon his return, Chapman was a faculty member at the University of Minnesota's Laboratory of Physiological Hygiene and then chief of cardiology at the University of Texas Southwestern Medical School. During this time, he served as president of the American Federation for Clinical Research and president of the American Heart Association.
Chapman's career focus shifted from research to medical education in the late 1960s. While dean of Dartmouth Medical School (1966–73), he led a successful effort to reestablish the M.D. degree program.
Following his retirement from the Commonwealth Fund in 1980, Chapman chaired the Department of Medical History at Albert Einstein College of Medicine in New York City. He published two books focused on medical ethics and history: Physicians, Law, and Ethics (1984) and Order Out of Chaos: John Shaw Billings and America's Coming of Age (1994).