Convening Experts
Over the last hundred years, the Commonwealth Fund has brought together stakeholders from a variety of backgrounds and disciplines, across the U.S. and the world, to discuss how best to improve health and health care. These convenings span the advancement of children's behavioral health in the early 20th century to the current global challenges of rising health care spending and chronic disease burdens.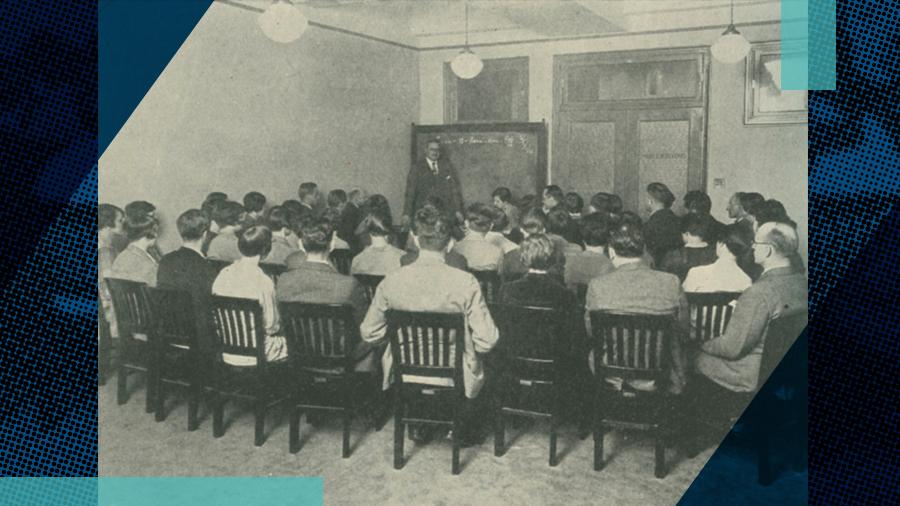 The Fund's program on child guidance grew out of an earlier focus on "preventing delinquency." In 1926, the Fund supported establishment of the Institute for Child Guidance in New York City to study and research children's mental health and to train social workers, psychologists, and psychiatrists in practical child guidance work. Pictured here are staff and students at the Institute in 1927 at a biweekly meeting to discuss current cases.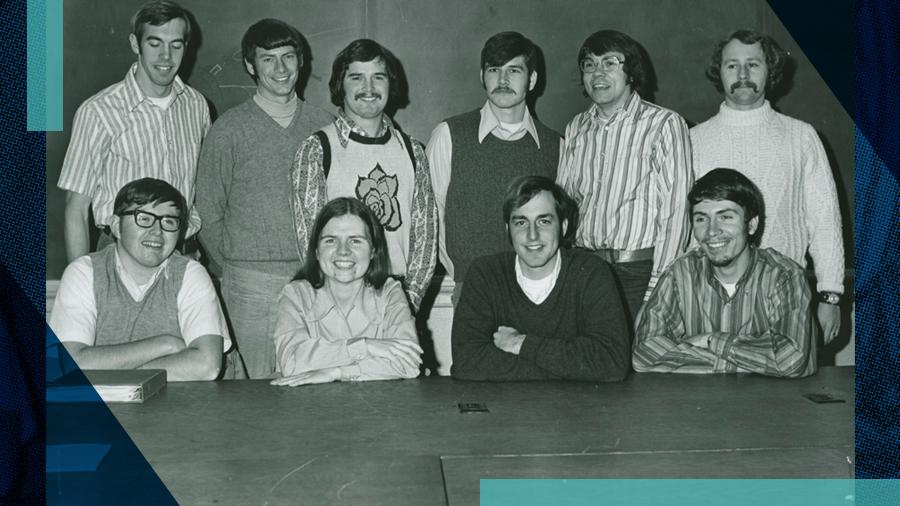 In the early 1970s, a grant from the Commonwealth Fund supported an experiment in cooperative regional medical education in four states: Washington, Alaska, Montana, and Idaho. Under this grant, Washington trained and prepared physicians to care for patients and communities throughout the four states. Students and faculty from participating universities regularly gathered to share teaching and learning opportunities, as seen in this 1974 photograph. Wyoming joined in 1996, and the program continues today.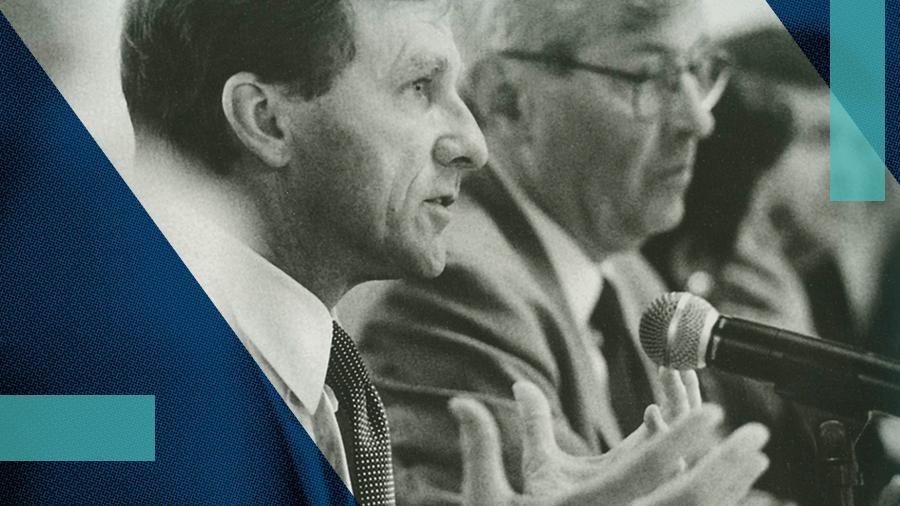 The Commonwealth Fund's International Symposium on Health Care Policy brings together health ministers and leading policy thinkers to highlight solutions and innovations and to help countries learn from one another. Pictured here is Allan Rock of Canada at the first symposium in 1998. This meeting introduced the Fund's comparative surveys of health care in five industrialized nations.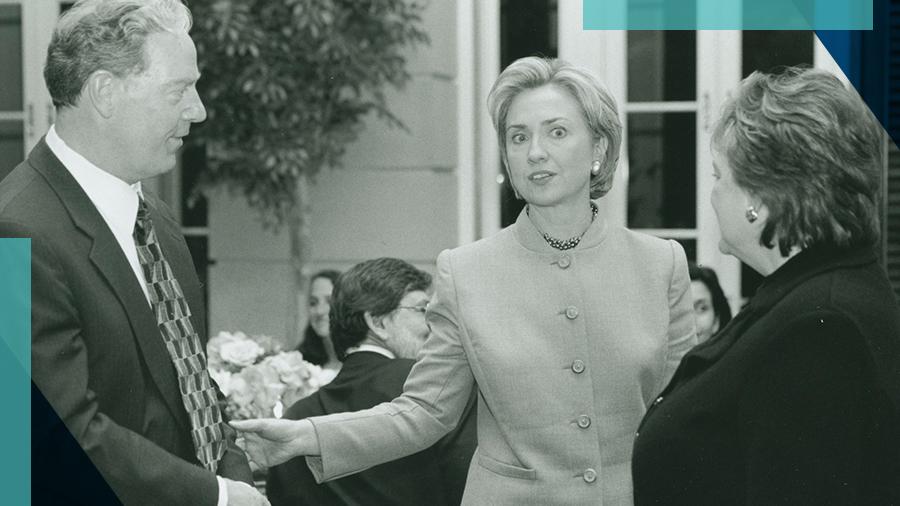 At the first annual International Symposium on Health Care Policy in October 1998, Hillary Clinton speaks with Princeton University professor and health care economist Uwe Reinhardt and Commonwealth Fund president Karen Davis.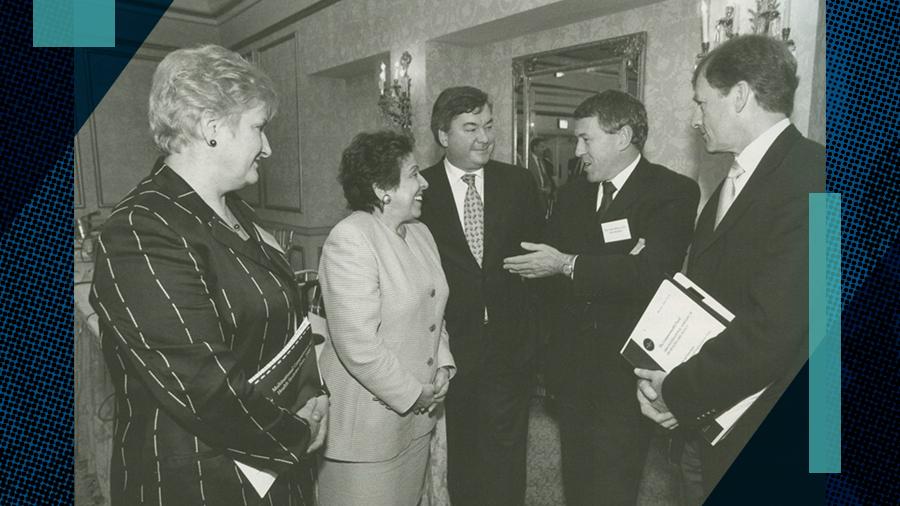 Attendees at the third International Symposium on Health Care Policy in 2000, discussing findings from that year's international survey. Pictured (L-R) are Annette King (New Zealand), Secretary Donna E. Shalala (United States), Michael Woolridge (Australia), John Denham (United Kingdom), and Allan Rock (Canada).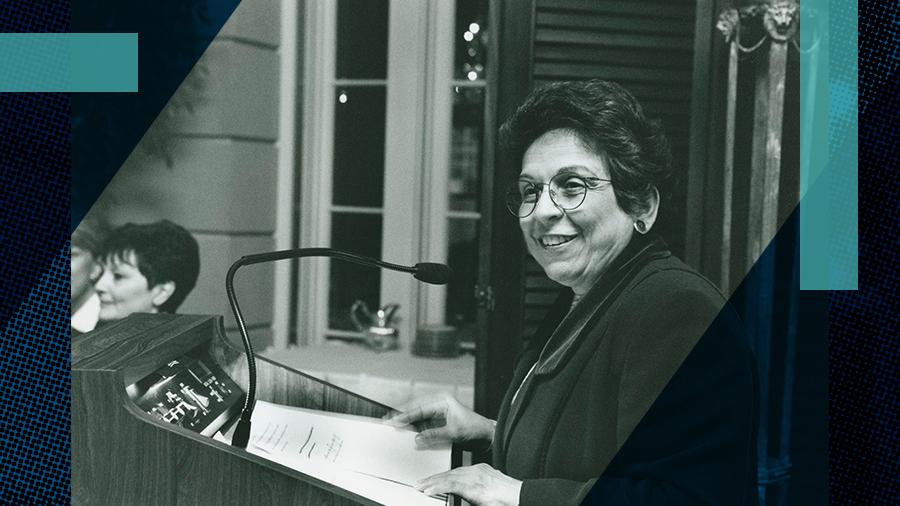 Secretary of Health and Human Services Donna Shalala at the Commonwealth Fund's International Symposium on Health Care Policy, Washington, D.C., 2000.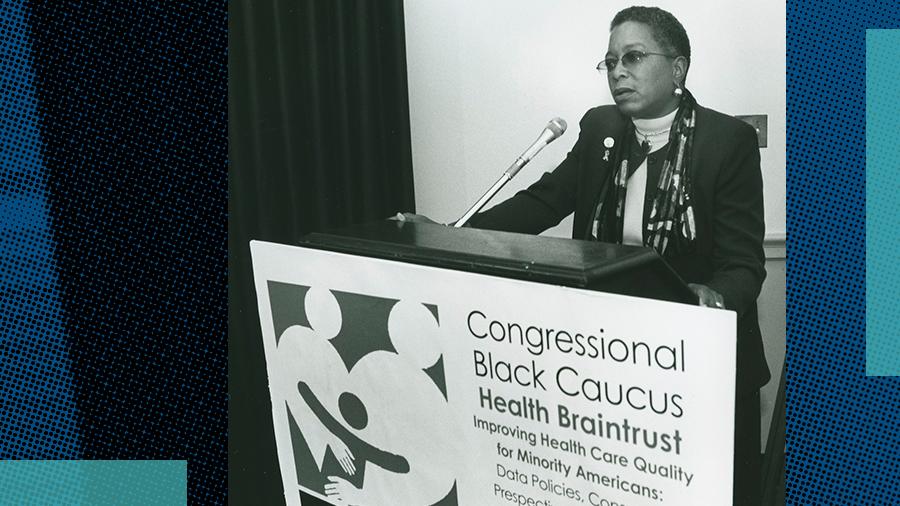 At a Capitol Hill briefing sponsored by the Congressional Black Caucus, the Commonwealth Fund, and Summit Health Institute for Research and Education, researchers, members of Congress, and health leaders examined strategies to eliminate racial and ethnic disparities in access to health care. U.S. Representative Donna Christian-Christensen (V.I.), pictured here, discussed the Fund's 2001 Health Care Quality Survey, which found that health care for minority Americans lagged on nearly every measure of quality and access.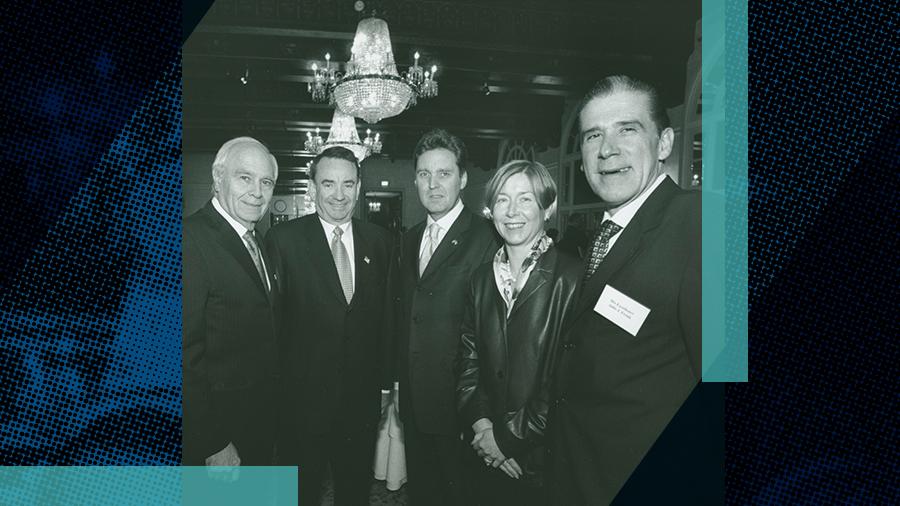 At the Commonwealth Fund's fifth International Symposium in Health Care Policy, 2002, attendees considered the theme, "Reconciling Rising Health Care Costs with Getting Value for Money." Pictured (L-R) are Minister Girolamo Sirchia (Italy), Secretary Tommy Thompson (United States), Secretary of State Alan Milburn (United Kingdom), Secretary Jane Halton (Australia), and Minister J. Julio Frenk, M.D. (Mexico).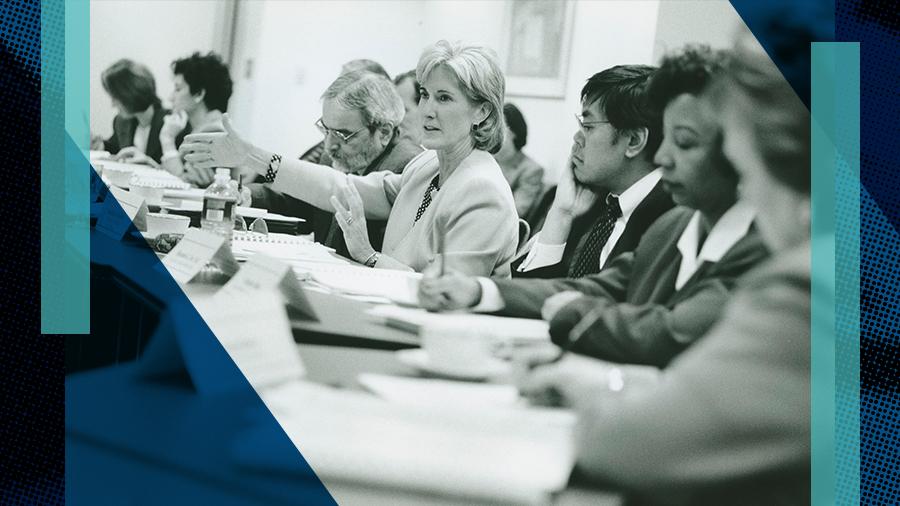 The Task Force on the Future of Health Insurance was a nonpartisan initiative established by the Commonwealth Fund in the late 1990s to identify strategies to expand and improve health insurance coverage for America's workers and their families. Pictured here at a Task Force meeting is Kathleen Sebelius, then the Kansas Insurance Commissioner. Sebelius went on to become Secretary of Health and Human Services under President Obama.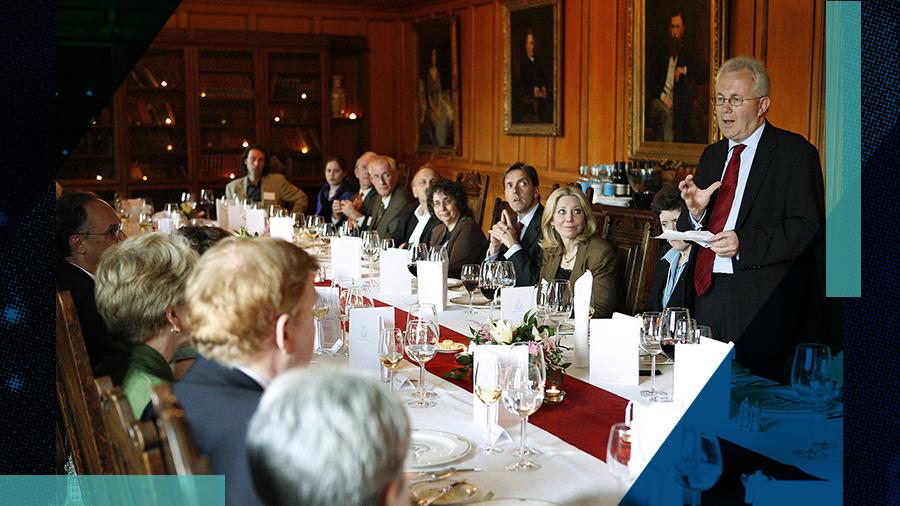 Since 1999, the Commonwealth Fund and Nuffield Trust have sponsored annual symposia to bring together senior government officials, leading health researchers, and practitioners from the United States and the United Kingdom to discuss quality improvement policies and strategies. In this photo, participants at the 2007 conference in Pennyhill Park, England.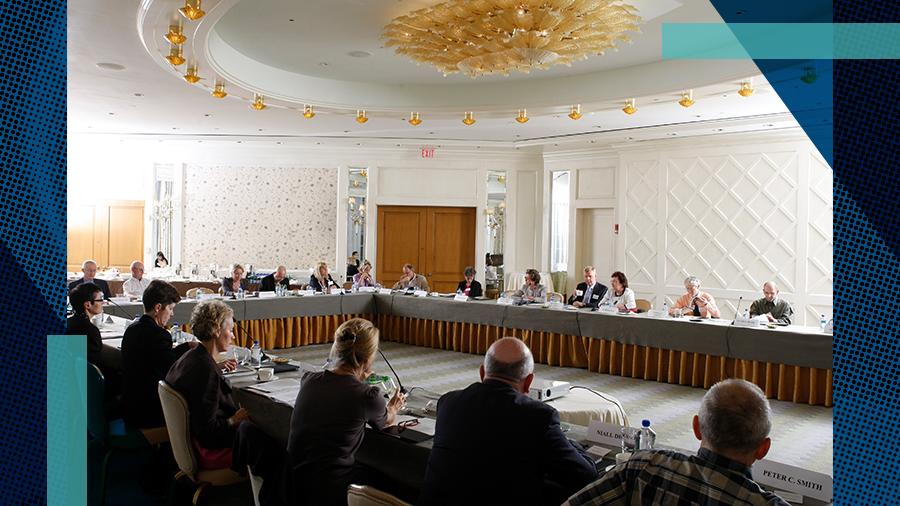 At the 2010 Commonwealth Fund/Nuffield Trust International Conference on Health Care Quality Improvement in Boston, attendees discussed improving quality of care while demonstrating "value for money."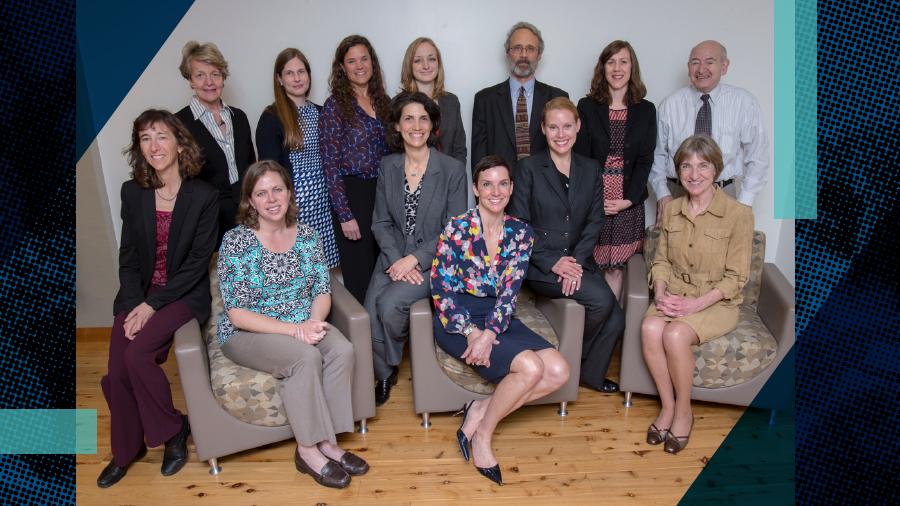 In 2015, the Federal and State Health Policy program convened a meeting of all their grantees (the Alliance for Health Policy, Center for Health Care Strategies, National Academy for State Health Policy, National Association of Medicaid Directors, National Conference of State Legislatures, and National Governors Association, and others) to discuss evaluation strategies and ways to measure policy impact.