David Blumenthal, M.D.
President
Years: 2013 to present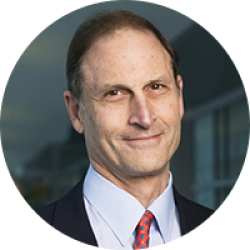 David Blumenthal, M.D., is the seventh and current president of the Commonwealth Fund. Under his leadership, the Fund has played a major role in analyzing and documenting the Affordable Care Act's implementation and the law's effects on health care in the United States. Dr. Blumenthal has also prioritized grantmaking aimed at improving the effectiveness and efficiency of health care delivery as well as understanding and addressing the drivers of high costs within the U.S. health system. In the past five years, the Commonwealth Fund has also modernized and expanded its communications program to focus on digital information platforms and establish a robust social media presence.
Although Dr. Blumenthal's tenure as president did not begin until 2013, his association with the Commonwealth Fund dates to the mid-1990s, when he directed the Task Force on Academic Health Centers, created in response to concerns over the impact of health care market changes on teaching hospitals' traditional missions. In the early 2000s, he developed, with Commonwealth Fund support, a series of colloquia on quality improvement in health care, focusing on topics such as overuse of health services and adoption of health information technology. He also chaired the Commonwealth Fund Commission on a High Performance Health System.
A practicing primary care physician with undergraduate, medical, and public policy degrees from Harvard University, Dr. Blumenthal was the Samuel O. Thier Professor of Medicine at Harvard Medical School and chief health information and innovation officer at Partners HealthCare System in Boston prior to leading the Commonwealth Fund. As President Barack Obama's National Coordinator for Health Information Technology from 2009 to 2011, he led successful efforts to establish an interoperable and secure nationwide health information system and to support the widespread, meaningful use of health IT. Earlier in his career, he served on the staff of the U.S. Senate Subcommittee on Health and Scientific Research.
Dr. Blumenthal is the author of more than 280 publications, including the book Heart of Power: Health and Politics in the Oval Office, which he co-wrote with James Morone. He is the founding chairman of AcademyHealth, the national organization of health services researchers; a member of the National Academy of Medicine; and a member of the editorial boards of the New England Journal of Medicine and the Journal of Delivery Science and Innovation.