James R. Tallon
Board of Directors Chair
Years: 2007 to 2014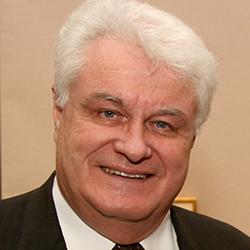 A member of the Commonwealth Fund Board of Directors for 18 years, James R. Tallon, Jr., served as chair from 2007 to 2014. During his tenure, David Blumenthal, M.D., was appointed as the foundation's seventh president.
Nationally recognized for his leadership in health policy, Tallon was named by Empire State Reports in 1999 as one of 25 individuals whose work resulted in sweeping improvements in the lives of New Yorkers in the past 25 years.
As a member of the New York State Assembly for 19 years, Tallon chaired the health committee from 1979 to 1987 and was majority leader from 1987 to 1993. Later he joined the United Hospital Fund, the oldest federated charity addressing critical issues affecting hospitals and health care in New York City, where he served as president for 24 years before retiring in 2017.
Tallon chaired the Kaiser Commission on Medicaid and the Uninsured and served on numerous boards, including the Alliance for Health Reform, the Institute on Medicine as a Profession, the New York eHealth Collaborative, the Jonas Center for Nursing Excellence, the Joint Commission on Accreditation of Healthcare Organizations, and the Prospective Payment Assessment Commission.
"Throughout his career, Jim Tallon has worked especially hard on behalf of those who are most vulnerable — the uninsured, low-income Americans, racial and ethnic minorities, children, and frail elders," said Karen Davis, the Commonwealth Fund's president for most of Tallon's board service.