John E. Craig
Executive Vice President and Chief Operating Officer
Years: 1981 to 2014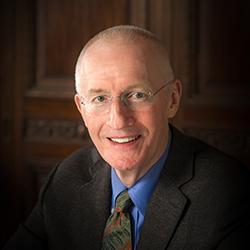 John E. Craig, Jr.'s tenure at the Commonwealth Fund spanned 33 years and three Fund presidents. Hired in 1981 as vice president and treasurer, Craig became executive vice president and chief operating officer in 1992. Under his stewardship, the foundation's endowment more than quintupled in value. His improvements to the efficiency and transparency of the Commonwealth Fund's operations not only maximized the organization's impact but also served as a model for other foundations.
A graduate of Davidson College and Princeton University's Woodrow Wilson School of Public and International Affairs, Craig served as a foreign service reserve officer in Vietnam during the 1960s. Later, he was an economic advisor to the planning and finance ministries of several Asian and African countries while associated with the U.S. Agency for International Development and the Department of Commerce. His work with foundations began when he directed the Health Policy Research Group at Georgetown University School of Medicine, where he helped evaluate and design several programs sponsored by the Robert Wood Johnson Foundation. In the late 1970s and early '80s, he launched the John A. Hartford Foundation's health care financing reform program.
Among his many early contributions at the Commonwealth Fund, Craig established a system for ongoing appraisal of institutional performance that has served as a guidepost for the foundation world. He wrote regularly on endowment management, performance measurement, and the foundation sector and is widely regarded as a national leader in articulating principles of sound foundation governance. He instigated and guided the restoration of the foundation's landmark headquarters building Harkness House on New York's Fifth Avenue, making it an exemplary example of preservation and adaptive reuse of one of the city's finest early 20th century buildings. Throughout his career, Craig has been active on foundation and nonprofit boards, including the International Women's Health Coalition, the TIFF Education Foundation, the Investment Fund for Foundations, the Picker Institute, and the Nonprofit Coordinating Committee of New York, for which he served as chair.