Max Farrand
General Director
Years: 1919 to 1921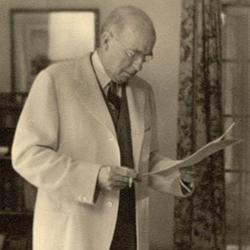 Max Farrand (1869–1945) was the first general director of the Commonwealth Fund, serving from 1919 to 1921. In this role, Farrand made programmatic recommendations to the Fund's president, Edward S. Harkness.
Farrand recommended a focus on research, prevention, and demonstration, rather than simply relief. His advocacy for higher quality in education and teaching led to the development of the Commonwealth Fund's Educational Research Program — the start of the foundation's long commitment to improving teaching.
Earlier in his career, Farrand taught history at Princeton, Wesleyan, Cornell, and Stanford universities, before becoming chair of the Yale History Department in 1908. In 1926, he was named director of the Huntington Library in San Marino, California, where he remained until his retirement in 1941.