Charles A. Sanders, M.D.
Board of Directors Chair
Years: 1993 to 2002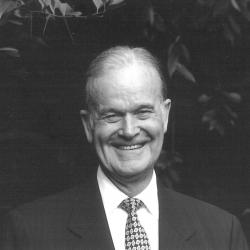 Charles A. Sanders, M.D., began his service on the Commonwealth Fund's Board of Directors in 1987, serving as chairman from 1993 to 2002. A cardiologist by training, he provided the foundation with skilled leadership in a period of great change in American health care. Sanders' experience as a professor of medicine, academic health center leader, pharmaceutical executive, and policy leader made him well suited for guiding the Fund's efforts to improve health care coverage and quality. During his tenure, Karen Davis became the Fund's president.
Sanders is a former chairman and CEO of Glaxo Inc., and former vice chairman with Squibb Corp. Earlier he served as general director of Massachusetts General Hospital and professor of medicine at Harvard Medical School. He is a member of the National Academy of Medicine, a member of the board of trustees of the Center for Strategic and International Studies, and chairman emeritus and board member of Project HOPE.
A native of Dallas, Sanders is a graduate of Southwestern Medical College of the University of Texas.