Mary Stillman Harkness
Philanthropist
Years: 1874 to 1950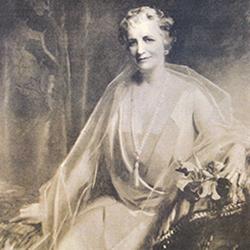 Mary Stillman Harkness (1874–1950), wife of Edward Harkness, was a philanthropist who gave out of a sense of social responsibility instilled by her parents. She was born in Brooklyn, New York, one of four daughters of Thomas and Elizabeth Stillman.
After marrying Edward in 1904, her philanthropy mirrored his interests in health, education, social welfare, and the arts. She made large donations to Columbia-Presbyterian Medical Center, Yale University, the Metropolitan Museum of Art, and the New York Public Library.
Mary cared deeply about childhood disease. She operated two farms in suburban New York for the research and treatment of rheumatic fever in children and funded a summer camp for disadvantaged city children at the Harkness summer home in Connecticut.
International human rights were also a special concern. She funded war relief efforts in Europe and Asia and donated a farm in Nyack, New York, to the Tolstoy Foundation for use as a resettlement center in 1941.
In honor of her parents and her Connecticut ancestors, Mary endowed Mystic Seaport in Connecticut. After Edward's death, she served as an honorary president of the Commonwealth Fund and was an honorary fellow of Lady Margaret Hall in Oxford, England.